Charlotte family dentist
A healthy outside will always start from the inside! Suppose you want your family to be happy, united, and ready to tackle future problems as a team. In that case, their health should be your top priority. This is why we have designed our services to better fit your dental needs by consulting with an experienced charlotte family dentist at Park Crossing Dentistry.
We have understood that dental care is best when provided to everyone, which is why we treat patients as young as three years old and even when they are in their 80s. Each member of your family has different needs and lifestyles. Still, we believe that happy smiles should be a universal characteristic of your family!
Preventive dentistry can be time-consuming and seem unnecessary at first glance. However, dental treatments can be even more expensive and complicated in the long term. Our team has designed the perfect program for your convenience.
With our flexible schedule, one of the experienced charlotte family dentists can see all your family members in just one visit! Our moms have even shared with us how important it is for them to be able to save time while coordinating their busy lives!
What is a Family Dentistry?
First of all, let's see what exactly family dental practice is. A family dentist is similar to a general one, meaning each provides general oral hygiene and dental care maintenance. Despite both terms being used interchangeably, there are essential differences between the two. Here is what you should know: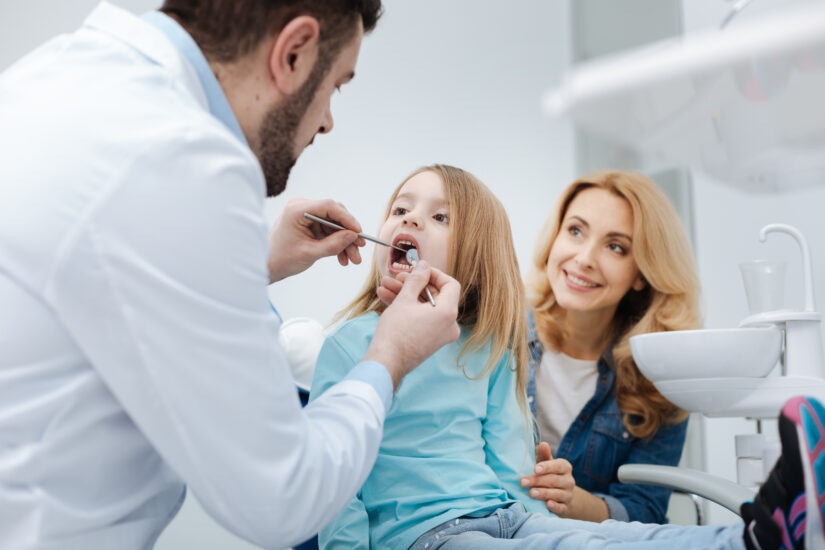 Shared Family Preventative Dentistry
Some general dentists will restrict the age of their patients. In contrast, a family clinic will take care of your entire family. Our staff at Park Crossing Dentistry consists of dental specialists that can check your whole family, no matter the age or needs. Regardless if you need simple teeth whitening, dental implants, zirconia implants, or even X-rays, a charlotte family dentist is got you covered!
Different Dental Treatments
When you take care of a family, you quickly realize that each comes with special dental needs. A toddler might have problems with tooth decay and cracked teeth, while an adult may have missing teeth or dental fillings. A charlotte family dentist specializes in covering such problems and many more, like cosmetic procedures and regular check-ups. Our team carries services like veneers, crowns, and Invisalign assistance, all designed to make you smile!
Benefits of Having a Family Dentist
Dental care and the overall oral health of your family are essential for the well-being of your family. Not only are you taking care of their bodies, but it has been proven that having a healthy and beautiful smile is a great way to boost confidence. For example, if you are a mother, you will find that a family dentist will work better for your needs rather than a general one. Undertaking special treatment for small children can be troublesome if the staff is not prepared to handle that situation.
This is why our team at Park Crossing Dentistry has a specific department for our young orthodontic patients. You will find our staff highly skilled and professional and very friendly and understanding. Please make an appointment today with a charlotte family dentist and see for yourself how dedicated we are to you and your family!
Special Attention to All Patients
Good oral hygiene routines are the backbone of a healthy and beautiful smile. Keeping your appointments every six months will ensure that your oral health is exceptional. If you have a missing or failing tooth, our specialists will offer you the special attention you deserve. With our family dental care, you can rest assured that all your loved ones are taken care of.
Even if you or a family member do not have some sort of periodontal disease, at Park Crossing Dentistry, we cover cosmetic dentistry. If you want a healthy smile but don't find all the information on our site, contact us immediately, and we will answer all your questions.
Communication and Privacy
We are aware of the importance of your data and privacy. If you decide to work with us, you can rest assured that all your and your family's details are protected health information. We treat our patients privately and discreetly so that you and your family can feel comfortable in our company.
We also tend to be conservative with our diagnosis. In other words, we do not prescribe huge treatment plans if they have no factual basis. Our dentist will work closely with you and your family to determine the best approach for your situation. Whether it is a limited budget or certain medical conditions, rest assured that we will accommodate our services to your needs.
Having a reliable family dentist by your side can ensure that all family members develop good oral hygiene and practices.
Trust an Exceptional Family Dentist in Charlotte NC
Park Crossing Dentistry can help you monitor your family's oral health condition while keeping an updated record of your dental history to provide one of the best family dental services in Charlotte, NC. In line with the American Dental Association (ADA) regulations, we recommend regular checkups for your entire family at least twice a year.
If you are still unsure about our services, complete our online appointment and let us remove all your worries! We have been recommended throughout North Carolina, especially in Charlotte, NC.
We also have patients from Fort Mill, SC, Rock Hill, SC, Indian Land, SC, Lancaster, SC, and even from Matthews, NC, and Pineville, NC, despite not having any offices there. Our expertise talks for us in the numerous happy families that we've helped put back a smile on their faces.
Call us today at (704) 541-5059 and ask us about any service or questions that you might have. If you want to have a check-up for yourself or your family, schedule an appointment with us online or on the phone. We are here for you and your needs!
FAQs
What are Some Signs it is Time to Schedule an Appointment with the Family Dentist?
One of the first signs of tooth decay or poor oral health is sensitivity to cold or hot liquids. If you are experiencing discomfort when drinking hot or cold beverages, contact your dentist in Charlotte, NC. Additional signs may include bleeding gums when flossing or brushing the teeth or a bad odor or taste in the mouth.
What Happens During a Dental Checkup?
A typical checkup will start with the paperwork, followed by an examination. Your dentist will decide whether or not an X-ray is required and will use special instruments to check your gums for diseases or infections. Then the doctor will analyze your overall dental health.
Do I Have Cavities?
You might have tooth decay if you experience toothache or discomfort that appears randomly and without any reason. Most known as cavities, this dental disease is caused by tooth sensitivity. This results in sharp pain when eating or drinking something sweet, hot, or cold.
How Can I Prevent Dental Decay For My Family?
Preventing dental decay is most difficult with babies and toddlers. Teaching your family to brush their teeth twice daily with ADA-approved fluoride toothpaste should do the trick. Avoid whitening toothpaste or other chemical alternatives. In the long run, the best solution is to regularly visit a family dentist and develop healthy habits in your family.